The Nanny is a 1965 thriller directed by Seth Holt for Hammer Films and starring Bette Davis, William Dix, Wendy Craig, Jill Bennet, James Villiers, and Pamela Franklin.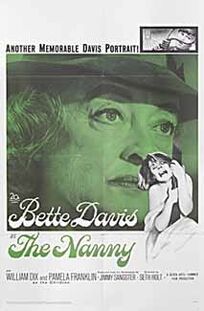 A boy (William Dix) is sent to a mental institution after he is blamed for the death of his little sister. Two years later he returns home and refuses to sleep in the room that the Nanny (Bette Davis) made him and instead picks a smaller room with easy access to the fire escape he also won't eat any of the food Nanny makes him. When his parents ask him what is the matter he says that the Nanny killed his sister and that he tried to kill him.
Ad blocker interference detected!
Wikia is a free-to-use site that makes money from advertising. We have a modified experience for viewers using ad blockers

Wikia is not accessible if you've made further modifications. Remove the custom ad blocker rule(s) and the page will load as expected.