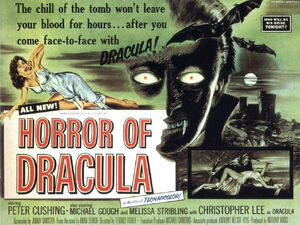 Horror of Dracula is a 1958 Gothic horror film directed by Terence Fisher and starring Peter Cushing , Michael Gough, Melissa Stribling, Carol Marsh, John Van Eyssen, and Christopher Lee as Dracula. It is the first in a series of Dracula movies made by Hammer Films .
Johnathan Harker (John Van Eyssen) goes to Dracula's Castle to attempt to kill Dracula, he fails and Dracula kills him. Johnathan's friend Dr. Van Helsing (Peter Cushing ) hears of Johnathan's death
Peter Cushing
as Doctor Van Helsing
Michael Gough as Arthur Holmwood
Melissa Stribling as Mina Holmwood
Christopher Lee as Dracula
Carol Marsh as Lucy Holmwood
John Van Eyssen as Johnathan Harker
Ad blocker interference detected!
Wikia is a free-to-use site that makes money from advertising. We have a modified experience for viewers using ad blockers

Wikia is not accessible if you've made further modifications. Remove the custom ad blocker rule(s) and the page will load as expected.